Shigh Lofe Biography: Age, Career, Record Label, Babyfather, Instagram, Pictures, Wiki
Seyi Awonuga (born on March 7, 1997) is a prominent personality in the Nigerian entertainment industry, widely recognized as Shigh Lofe. With a passion for talent management and business acumen, she has carved a niche for herself as a distinguished A&R (Artists and Repertoire) professional within the music realm.
Seyi Awonuga assumes the role of founder and CEO of Bang Mewsic Entertainment, a record label she has spearheaded to prominence. Her astute leadership and a keen eye for talent have played a vital role in nurturing emerging artists and shaping the music landscape.
Early Life
Seyi, popularly known as 'Shigh Lofe' Awonuga, was born into the Awonuga family. She proudly identifies as Yoruba and originates from one of the southwestern states of Nigeria. Her upbringing unfolded in the heart of Lagos, specifically on the mainland.
During her teenage years, Seyi, who harbored a deep passion for music, particularly Hip-hop and Rap, discovered her true calling lay in the business aspects of the music industry rather than as a vocalist.
From high school, Shigh Lofe embarked on a path as an A&R professional, tirelessly scouting for musical talents within her community. She facilitated connections between these budding artists and recording producers, contributing to creating exceptional music. Her dedication to this mission remained steadfast even as she pursued higher education.
Education
Shigh Lofe's educational journey reflects her commitment to excellence. She attended some of the finest public schools in Lagos for her early education, where she honed her academic foundation. Her determination and dedication to learning paved the way for her subsequent academic achievements.
Upon completing her secondary education, Seyi took a significant step towards her future by enrolling in one of Nigeria's premier universities in the South West region. This choice of institution underscored her commitment to pursuing higher education at a reputable institution known for its academic excellence. Her university experience undoubtedly played a pivotal role in shaping her career and preparing her for the challenges of the music industry.
Career
Shigh Lofe's journey in the music industry has been nothing short of extraordinary. Over the years, she has become one of Nigeria's most prominent artist managers, leaving an indelible mark on the entertainment landscape. Her crowning achievement is the establishment of Bang Mewsic Entertainment, where she serves as the founder and CEO.
Bang Mewsic Entertainment was once the nurturing ground for A-list rapper and songwriter Zlatan Ibile. With her exceptional skills as an A&R personnel, Seyi played a pivotal role in Zlatan's artistic development, fostering his growth as an artist and connecting him with influential figures in the industry.
Zlatan's journey from the label to international fame underscores Seyi's talent management prowess.
Under her leadership, Bang Mewsic Entertainment has become a sanctuary for up-and-coming recording artists in Nigeria, providing a platform for young and emerging talent to flourish.
As one of the music industry's leading executives on the African continent, Shigh Lofe has had the privilege of collaborating and networking with numerous top entertainers. Her extensive list of associations includes renowned names such as Davido, Olamide, Peruzzi, Wizkid, Mayorkun, Naira Marley, Burna Boy, Fireboy DML, Ola Dips, Zinoleesky, Picazo Rhap, Lyta, Chinko Ekun, Funke Akindele, and Rahman Jago.
Beyond artist management, Seyi has also ventured into music promotion, touring various cities in Nigeria, Europe, and North America. Since 2018, she has been the driving force behind the logistical success of some of the biggest music concerts in Africa, further cementing her influence in the industry.
In a testament to her impact and the strong relationships she has built, Shigh Lofe received the generous gift of a Range Rover car from the popular singer Naira Marley in 2019. This gesture symbolizes the recognition and appreciation she has earned from her peers and collaborators in the music business.
Personal Life
Shigh Lofe possesses a striking beauty, characterized by her dark complexion and average height. She is recognized for her unique dressing style and addressed as a 'Tom Boy.' She shares a close relationship with the renowned musician Zlatan, and together, they welcomed their first child, a son, in June 2019.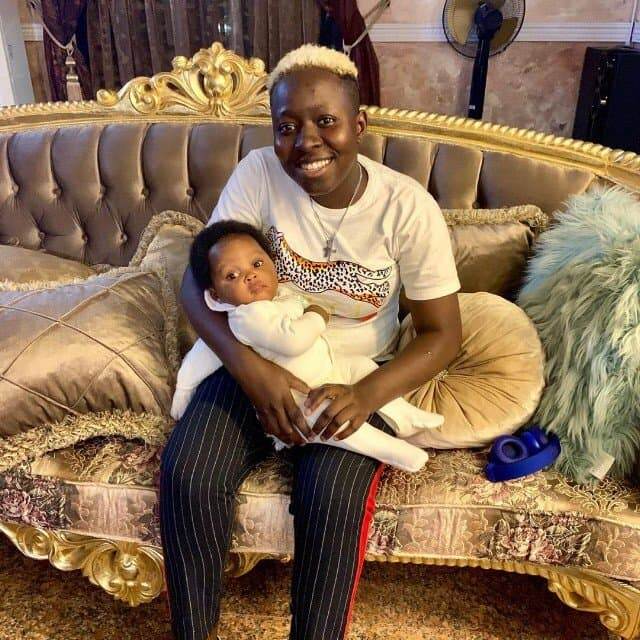 She is also recognized by the alias 'Cash Lord' and has established strong friendships with several prominent Afrobeats artists in Nigeria. Among her close associates is the singer Lyta.
Seyi opts for a chic, short-cropped hairstyle, which she often highlights with a subtle golden tint.
She lives in a luxurious mansion in the upscale neighborhood of Lekki in Lagos and boasts ownership of two exquisite automobiles.
Social Media
Net Worth
Shigh Lofe is a highly accomplished music entrepreneur with an estimated net worth of US$500,000.
---
---