Tory Lanez Biography: Age, Career, Parent, Songs, Girlfriend, Net Worth, Sentence, Instagram, Pictures
Daystar Shemuel Shua Peterson (born July 27, 1992) is a famous Canadian rapper, singer, and songwriter known professionally by his stage name Tory Lanez. He has been on the radar for a couple of years after gaining prominence in 2016, and since then, he has proved he is a force to be reckoned with in the industry.
Early Life
Daystar Peterson, 31 years of age and widely known by his stage name "Tory Lanez," has a fascinating background that significantly shaped his artistic journey. Born in 1992, he was raised by his parents – a Bajan father and a mother named Luella, who hailed from Curaçao. Their diverse cultural backgrounds contributed to the rich tapestry of influences that would later be reflected in his music.
Tory Lanez's father held the dual roles of an ordained pastor and a missionary. This commitment to his faith led the family to a nomadic lifestyle, frequently relocating across various parts of the United States. This constant movement exposed Daystar to multiple environments, people, and experiences that likely contributed to his versatile approach to music and storytelling.
During his formative years, Tory Lanez formed a close friendship with Hakeem. It was during this time that his penchant for seeking excitement and adventure earned him the nickname "Lanez," given to him by Hakeem. This nickname would stick with him as he embarked on his artistic endeavors.
2006 when Tory Lanez was just 15 years old, a pivotal event occurred in his life. He and his grandmother made the journey to Toronto. However, he was abandoned upon their arrival and left to navigate a new city alone. This marked a turning point in his life, prompting him to summon his inner strength and resilience as he embarked on a journey of self-discovery and growth.
It wasn't until a bit later that Tory Lanez delved into the world of music. He rediscovered his passion for rapping, assuming the monikers "Notorious" and "Tory Lanez." What makes this musical transformation even more remarkable is that he had never undergone any formal voice training or coaching prior to this. At 17, he began exploring his vocal abilities and became interested in singing.
Education
Tory Lanez's educational journey was unique as he attended Fletcher's Meadow Secondary School. However, his path diverged from the traditional route when he decided to drop out at sixteen and in the tenth grade. This pivotal moment marked the end of his formal education as he chose to pursue a different path.
Instead of continuing his studies, Tory Lanez ventured into music and performance. He began organizing and participating in outdoor concerts, showcasing his burgeoning talent to live audiences. This transition from the classroom to the stage symbolized his commitment to his artistic aspirations and marked the beginning of his journey as a performer and musician.
Career
Tory Lanez's career is a testament to his creative passion and tenacity, marked by milestones that have solidified his status as a versatile artist in the music industry. His journey began in 2009 when he ventured into the realm of music videos, a crucial step that laid the foundation for his future musical endeavors. Hailing from South Florida, Lanez's initial foray into music led him on a trajectory that would ultimately shape his unique sound and style.
After honing his craft and making his mark on the local scene, Tory Lanez caught the attention of industry insiders, leading to a significant turning point in his career. He inked a record deal with Time is Money Entertainment, providing him the platform to showcase his musical prowess on a larger scale. This strategic partnership allowed him to amplify his reach and solidify his foothold in the industry.
Lanez's ascent continued with a string of mixtape releases that showcased his evolution as an artist. From "Mr. 1 Verse Killah" to "Playing for Keeps," "One Verse One Hearse," and "Just Landed," his mixtapes became vehicles for experimentation and creative expression. In 2012, Lanez further demonstrated his versatility by dropping the mixtapes "Sincerely Tory," "Conflicts of My Soul: The 416 Story," and "Chixtape II." These releases highlighted his musical range and garnered attention for his lyricism and storytelling prowess.
Not content to rest on his laurels, Lanez embarked on a series of strategic moves that propelled him further into the spotlight. He introduced "Fargo Fridays," a series of song releases that showcased his consistent output and ability to connect with his audience. Collaborating with WeDit Records producers, he also ventured into creating an EP in 2015, showcasing his collaborative spirit and willingness to explore new sonic territories.
2015 marked a significant milestone for Lanez as he made his official debut in the music industry with the release of his album "Say It." This debut album solidified his presence in the mainstream and garnered attention for its unique blend of R&B and hip-hop influences. Lanez's subsequent releases, including singles like "BLOW" and "LA Confidential," further showcased his ability to craft captivating and memorable tracks.
Lanez's live performances and appearances on prestigious platforms like Jimmy Kimmel Live! Added to his growing reputation as an engaging and charismatic performer. The "Level Up Tour" launch alongside ASAP Ferg in 2016 solidified his stage presence and allowed him to connect with his fans more personally.
In 2018, Lanez continued to push boundaries with the release of his second studio album, "Memories Don't Die." This album showcased his growth as an artist and ability to navigate different musical landscapes. His ongoing "Fargo Fridays" series provided consistent new content, keeping his audience engaged and intrigued.
The subsequent years saw Lanez releasing a series of albums, including "Love Me Now?," "Chixtape 5," and "The New Toronto 3." His fifth album, "Daystar," released in 2020, marked a pivotal moment in his career. Addressing and refuting accusations through his music, the album showcased Lanez's willingness to confront controversy head-on while continuing to express his artistry.
Despite legal challenges, Lanez's music remained a source of connection and resonance for audiences worldwide. His song "The Color Violet" gained popularity on TikTok, showcasing his ability to resonate with diverse audiences through his creative output.
Discography
I Told You
Memories Don't Die
Love Me Now?
Chixtape 5
Daystar
Alone at Prom
Sorry 4 What
Awards & Nominations
Juno Awards (4)
Much Music Video Awards (1)
BET Awards (1)
BET Hip Hop Awards (2)
Juno Awards (4)
GRAMMY Awards (1)
Personal Life
Tory Lanez's personal life is marked by notable experiences and relationships that have shaped his journey. He is the father of a son named Kai, born from his relationship with his baby mama, Raina Chassagne. This aspect of his life adds depth to his identity beyond his music career, highlighting his roles as a father and partner.
Lanez's distinctive appearance, characterized by a unique blend of foreign features and an affinity for luxury, earned him the "Argentina Fargo." This nickname encapsulates his visual appeal and his ability to seamlessly integrate elements of diverse cultures and environments into his persona. This fusion of influences adds a layer of complexity to his public image, making him stand out in the music industry.
However, despite his artistic successes and the intriguing facets of his identity, Tory Lanez faced a significant legal battle that impacted his career trajectory. On Tuesday, August 8, 2023, he received a substantial sentence of 10 years in jail without possible parole. This ruling followed his conviction for felony assault in July 2020, stemming from the incident involving the shooting and injury of fellow hip-hop artist Megan Thee Stallion.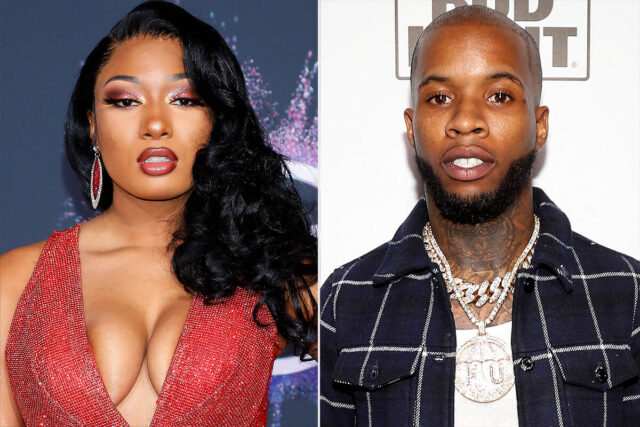 The events leading up to this sentencing are marked by legal proceedings and Lanez's attempts to challenge the verdict. Notably, Lanez pursued an appeal for a new trial, which was ultimately denied in May. This appeal process contributed to a delay in the execution of his punishment. Throughout these legal battles, Lanez's defense team, led by attorney Joe Baez, expressed their intent to challenge the severity of the sentence through the appeal process.
The defense's assertion that the punishment is "extreme" sheds light on the complexities of the legal case and the differing perspectives surrounding it. Lanez's legal team's commitment to pursuing an appeal underscores their belief in his innocence or their argument for a more lenient punishment. This ongoing legal saga adds a layer of uncertainty to Lanez's future and raises questions about the potential impact on his music career.
Social Media
Instagram: @torylanez
Twitter: @torylanez
Net Worth
Tory Lanez, an accomplished music artist known for his creative endeavors, has amassed an estimated net worth of approximately $5 million.
---
---