Jenna Davis (born May 5, 2004) is a young talented American dancer, singer, actress, and YouTuber most known for her portrayal of Monica in the Brat series Chicken Girls and A Girl Named Jo. She has also appeared in the Disney series Raven's Home as Sienna. In addition to her acting career, she lent her voice to the title character in the film M3GAN.
Early Life
Jenna Davis was born and raised in a Christian family in Plano, Texas, nurtured and raised by her father, Ronnie Davis, and Anna Lee. Jenna developed a deep passion for dancing from a very young age and began displaying her love for the art form as early as two years old.
At the age of five, Jenna was introduced to acting, and her talent quickly became evident when she contested for her first film and won the contest at the age of six years old. This early success motivated her to pursue her acting career further, leading her to relocate with her family to Los Angeles at the age of 11.
Initially, Jenna Davis began utilizing various social media platforms under the guidance and management of her parents. They played an instrumental role in helping her promote herself and establish a presence in the digital sphere.
While in Los Angeles, Jenna continued her education through online studies, as her busy schedule as an actress and dancer made it challenging to attend a traditional school. She completed her early schooling at a local high school in Plano, Texas, and is currently pursuing her education online.
Career
Jenna Davis embarked on her career as a YouTuber in 2014, initially gaining recognition by posting music videos and covers of popular songs on her self-titled channel. She quickly amassed a substantial following on the platform through consistent content creation, establishing herself as a prominent online figure. In addition to her music-related content, Jenna diversifies her channel by uploading challenges, tutorials, acting videos, and vlogs, all contributing to her widespread popularity and success.
With the advent of TikTok, Jenna expanded her online presence and found further success on the platform. Her account features short lip-sync and music videos that resonate with her audience, leading to a significant increase in her follower count.
Beyond her social media endeavors, Jenna has made notable appearances in popular television series such as Chicken Girls and others. Her talent and versatility have propelled her into the spotlight, earning her recognition as a rising star in the entertainment industry.
Personal Life
Jenna is known for being friendly and has formed close bonds with other talented individuals in the entertainment industry, including Sophie Pecora and Merrick Hanna. Her favorite color is black, and she is an avid pet and food lover, particularly of Italian cuisine. Jenna is single and prioritizes her career and education, focusing on personal growth rather than pursuing romantic relationships.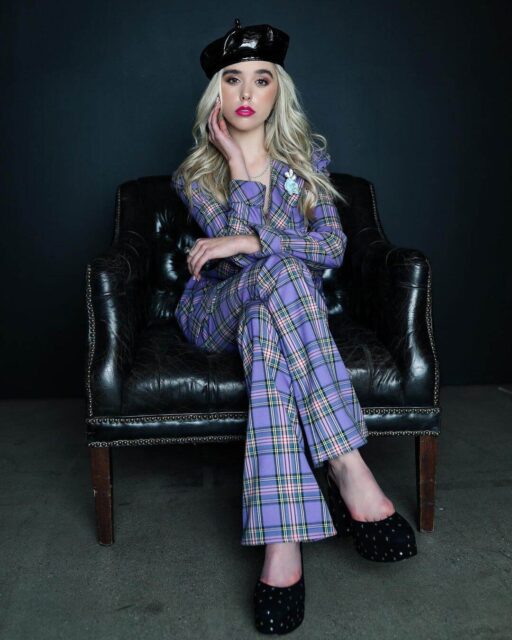 At 19, Jenna stands at approximately 5 feet 1 inch tall and weighs around 45kg, showcasing her petite stature.
Filmography
M3GAN as M3GAN (voice)
Maggie as Meg
Infinity Train as Lucy / Kevin Jr. / Lindsay (voice)
A Girl Named Jo as Monica
Chicken Girls: The Movie as Monica
Mr. Neighbor's House 2 as Ingrid
Treehouse Detectives
Afterschooled as Monica
Vampirina as Students
Chicken Girls as Monica
Raven's Home as Sienna
The Last Tycoon as Sally Sweet
Teachers as Ashley
Sofia the First as Fairy
Social Media
Instagram @jennadavis
Facebook @Jenna Davis
Twitter @Jennadavis_5
Net Worth
Jenna Davis has an accumulated net worth according to 2023 record, to be approximately US$400,000.
---
---