Hunter Doohan Biography: Age, Career, Net Worth, Movies, Girlfriend, Parent, Television, Instagram, Photos
Hunter Doohan (born January 18, 1994; Age: 29 years) is a multifaceted talent in the entertainment industry widely recognized as an accomplished American actor, skilled writer, adept film director, and engaging social media personality. His versatility and captivating performances have endeared him to audiences worldwide.
His standout role was portraying Tyler Galpin in the 2022 Netflix series "Wednesday." In this series, he showcased his acting prowess, bringing depth and authenticity to his character. His compelling portrayal contributed significantly to the success and popularity of the show.
Early Life
Hunter Doohan was born and raised in Fort Smith, Arkansas. He was raised in a family with his mother, Angie Harper Carmichael, and his late father, Peter Leslie Doohan, who was a respected professional coach until his passing in 2017. Hunter also shares his journey with a brother, growing up together and creating precious memories.
After completing his high school education, Hunter's passion for acting led him to explore opportunities in the entertainment world. His path led him to Los Angeles, where he interned at Elizabeth Barnes Casting, allowing him to immerse himself in the inner workings of the industry. This experience provided him with valuable insights and laid a strong foundation for his future pursuits in acting.
Career
Undaunted by the challenges that often come with an artist's early career, Hunter Doohan tackled various day jobs, from being a background extra and waiter to working as a Universal Studios tour guide. Simultaneously, he poured his heart into studying acting, believing in the power of education and hands-on experience to fuel his growth.
Hunter's big break arrived when he landed a pivotal role in the first season of the 2019 Apple TV+ series "Truth Be Told." In this remarkable performance, he breathed life into the younger version of Aaron Paul's character, Warren Cave. This role became a defining moment, showcasing Hunter's talent for portraying complex characters with depth and authenticity.
2020 proved to be a turning point for Hunter's career when he secured a significant role in the legal drama series "Your Honor." Playing the character of Adam Desiato, he skillfully navigated the intricate layers of his role, further establishing his presence in the entertainment industry.
Hunter continued his artistic journey with unwavering determination, shining again in 2022 with his portrayal of Tyler Galpin in the Netflix series "Wednesday." This role marked another milestone in his career as he embraced diverse characters, demonstrating his adaptability and range as an actor.
Filmography
Far from the Tree
Soundwave
Where We Disappear
Last Patrol on Okinawa
Ringing Rocks
Personal Life
Hunter Doohan's life is a beautiful tapestry woven with family connections, self-discovery, and meaningful relationships.
When it comes to being true to himself, Hunter embraces authenticity. He proudly identifies as queer and openly acknowledges and celebrates his gay identity. His journey of self-discovery reflects his commitment to living a genuine and unapologetic life.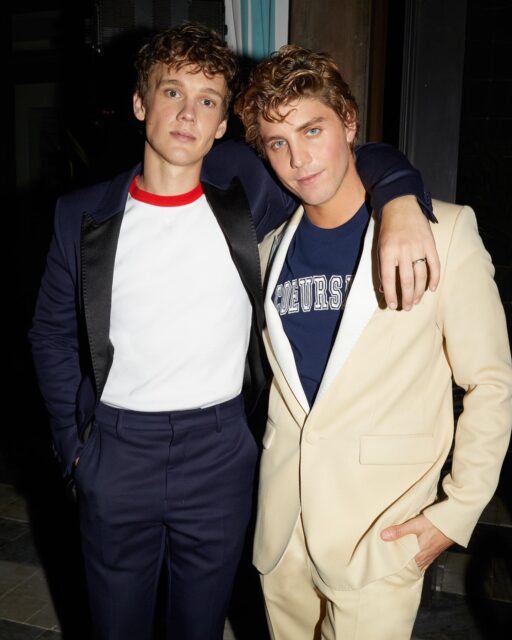 In June 2022, Hunter entered a new chapter in his personal life by marrying producer Fielder Jewett. This union represents a deep love and shared dreams, symbolizing a journey of growth and companionship.
Hunter also shares a close bond with his older brother, who works as a tennis coach. Their connection goes beyond family; it highlights their shared heritage and the dynamic relationship between sports and their personal lives.
Social Media
Instagram: @hunterdoohan
Twitter: @hdoohan
Net Worth
Hunter Doohan is a talented actor who has achieved significant success in the entertainment industry, amassing an estimated net worth of $3 million through his acting career. His dedication and skill in acting have undoubtedly contributed to his well-deserved recognition and financial accomplishments.
---
---