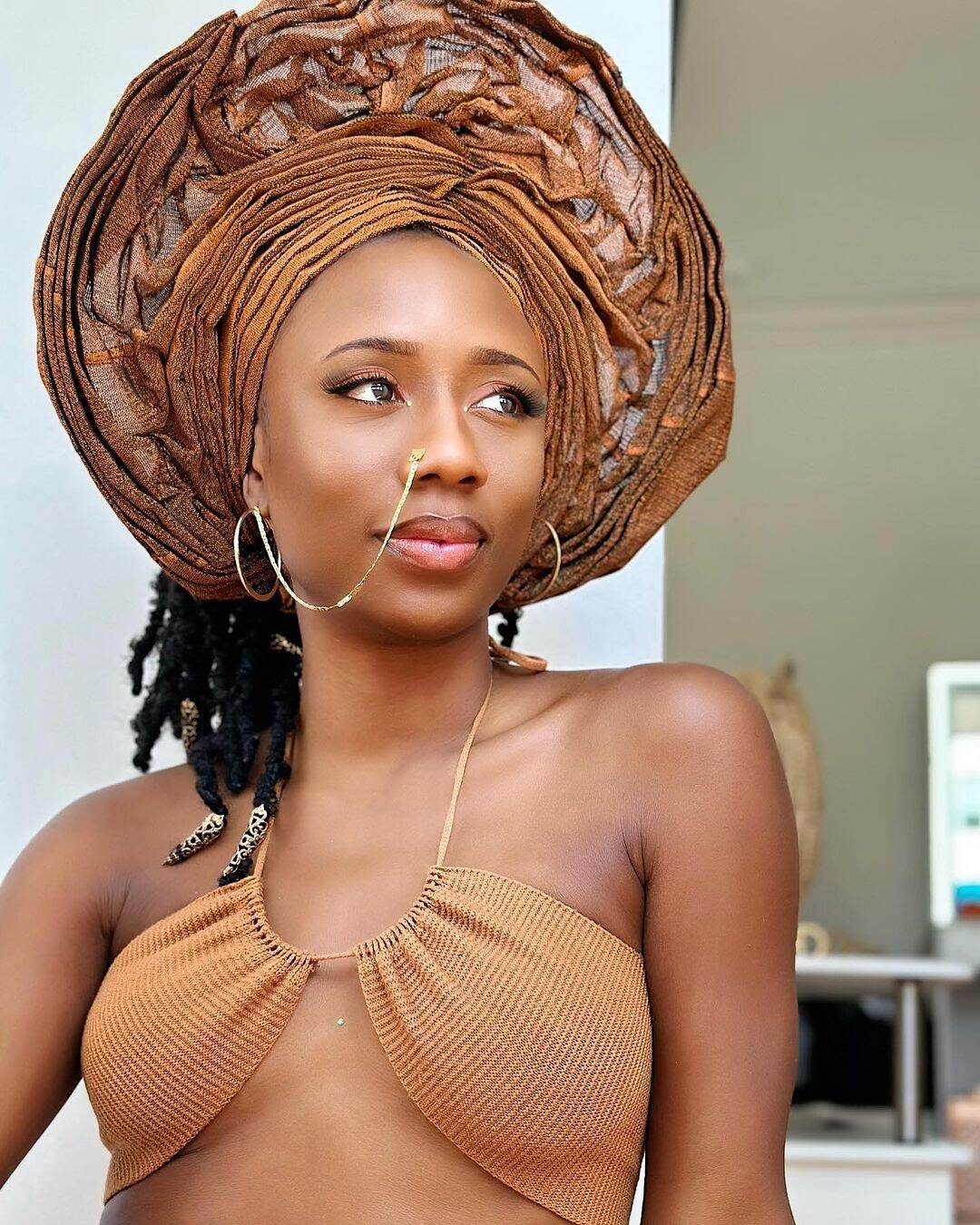 Anita Chukwumfunaya Obidi (born on June 23, 1991), recognized under her professional pseudonym Korra Obidi, has established herself as a prominent figure within the Nigerian entertainment realm. Distinguished as a dancer, musician, and model, her multifaceted talents have propelled her into the spotlight.
Korra Obidi's presence in the entertainment industry is formidable, and her influence extends beyond her artistic pursuits. Her marriage to the esteemed Doctor Justin Dean garnered considerable attention, contributing to her status as a well-known personality.
Her artistic prowess has earned her acclaim and recognition, with one notable accolade being the esteemed title of Africa's Best Dancer at the distinguished AFRIMMA Awards.
Early Life & Education
Korra Obidi, currently 32-years of age, was born and raised in Oshimili, Delta State, where she spent her formative years surrounded by her close-knit family. Her upbringing was strongly influenced by the presence of her late mother, Pauline Anthony Obi Obidi. Tragically, Korra lost her mother at a tender age, leaving an indelible mark on her life's narrative.
Growing up alongside her siblings—a brother and two sisters—Korra was nurtured under the guidance of her father, who assumed the role of caregiver after the loss of their mother. One of her sisters, Nancy Umeh, has garnered recognition in her own right, contributing to the family's legacy of achievement.
The Obidi family was united by their shared faith in Christianity, with their upbringing grounded in the teachings of the Christian doctrine.
Korra's educational journey saw her attending the Command Secondary School High School in Lagos State. During her time there, her academic foundation began to take shape. Subsequently, she embarked on a new chapter by pursuing higher education at the University of Lagos, where she delved into business administration and management. Her dedication and hard work culminated in her graduation in the year 2011.
Career
During her student years, Korra Obidi embarked on a journey of creative exploration, setting the stage for her remarkable artistic career. Her initial foray into the performance world began on local stages, where she showcased her dancing talents at community events. Despite facing initial reluctance from her family to support her artistic pursuits fully, Korra's unwavering determination propelled her forward, enabling her to channel her passions with fervor and commitment.
Her trajectory as a dancer skyrocketed when she received invitations to share the stage with some of Nigeria's top artists, leading to nationwide tours that allowed her to refine her craft through hands-on experience. Driven by an insatiable desire to perfect her art, Korra dedicated herself to the study of belly dancing under the tutelage of the esteemed instructor Priti Mastakar.
In 2009, during her youthful phase, Korra achieved the distinguished title of Miss Radiography, a recognition that remains etched in her memory as a crowning achievement. In 2010, she achieved triumph again by being crowned Miss Moremi, a source of immense joy and accomplishment. As the calendar turned to 2014 and she reached the age of 27, she secured the honorable distinction of Miss Congeniality, further solidifying her presence within various circles.
Her affinity for modeling flourished throughout her academic journey, and she embraced this passion with gusto. Korra exemplified her versatility within the modeling world by striding down runways in Port Harcourt and gracing the platform of GTbank.
As time unfolded, Korra's star continued to ascend, illuminating the worlds of both dance and music. Her vibrant talents were showcased on notable stages like the African Basketball League, where she mesmerized audiences with her performances. The esteemed Ladies A'La Mode event provided yet another platform for her to display her skills gracefully.
Embracing the global stage, Korra further elevated her reputation by captivating audiences at Al Arab. In 2019, she embraced a new challenge by participating in 'So You Think You Can Dance,' a testament to her courage and poise in competition.
Discography
Woman Power
Park Nicely
Africa Cruise
My Way
My Bobo
50/50
Anitation
Neje
Cool Temper
Dugudu Onyema
Park Well
Money Be Person
Rub Up on Me
Cassava
Isapass
Jeje
Personal Life
Korra Obidi's love story turned into matrimony when she exchanged vows with Justin Dean, an American sports therapist and chiropractor. The union was sealed in a traditional ceremony held in Lagos in 2017. However, the promising path their love had embarked upon was beset with unforeseen challenges that would test their relationship.
Amidst the hopes and dreams, accusations began to surface, casting shadows over their once-joyous journey. Korra faced allegations of infidelity, and a troubling narrative emerged. She openly disclosed that her husband had subjected her to verbal abuse, a situation that unfolded in the presence of their children. These escalating conflicts marked the end of their marital bond, ultimately leading to a divorce.
As the pieces of their unraveling relationship were examined, it was revealed that Korra had been involved in a relationship before her relocation to the United States. This revelation added a layer of complexity to the narrative, shedding light on the dynamics that contributed to the breakdown of her marriage.
The timeline of her personal life also bore witness to the arrival of new chapters. In 2019, Korra welcomed her first daughter, June Dean, into the world. The following three years brought another significant milestone, with the birth of her second daughter, Athena Dean, in March.
Amidst the tumultuous events, Korra made a pivotal decision. In light of the emotional turmoil and upheaval that had marked her recent years, she concluded that she needed a fresh start. This led her to make the significant choice of relocating to California after her divorce, where she currently resides.
Korra Obidi maintains a close and cherished friendship with Jane Mena, a well-known Instagram celebrity and an accomplished dancer in her own right. Their bond is evident through their camaraderie, often witnessed in the videos they post on their respective social media platforms.
Awards & Nomination
Miss Radiography (2007)
Miss Moremi (2010)
Miss Congeniality for Nigeria (2014)
Social Media
Instagram: @korraobidi
Twitter: @korraobidi
Net Worth
Korra Obidi's career, which spans the realms of dance, singing, and modeling, has not only enriched her artistic journey but also brought about financial stability. As a result of her diverse talents and unwavering dedication, her net worth has now ascended to an impressive estimate of US$400,000. This substantial figure is a tangible testament to the remarkable depth of her talent and the relentless effort she invests in her pursuits.
---
---