Rita Sahatçiu Ora (born November 26, 1990; Age: 33 years) is a highly acclaimed British singer, songwriter, and actress renowned for her exceptional talent and versatile musical abilities. She is known professionally as Rita Ora.
Rita was catapulted to fame in the music industry following her collaboration with DJ Fresh on the hit single "Hot Right Now," which soared to the top of the charts, claiming the coveted number-one spot in the U.K.
Rita's journey in the world of music began with this breakthrough moment, marking the start of a successful career that would establish her as one of the most prominent figures in the contemporary music scene.
Early Life
Rita Ora was born in Pristina, a city in the country known then as Yugoslavia, now called Kosovo. Her parents, Vera Sahatçiu and Besnik Sahatçiu, are Albanian. Her mom, Vera, is a psychiatrist, while her dad owns a pub. Rita has an older sister named Elena Sahatçiu and a younger brother named Don Sahatçiu.
The family's original last name, Sahatçiu, means "watchmaker" in Turkish. To make it easier to say, her parents added "Ora," which means "time" in Albanian, to her last name.
Due to issues in their home country, Rita's family moved from Kosovo to London, England, in 1991 when she was very young. They settled in Notting Hill, a neighborhood in West London, and started a new life there.
Her early interest in music and performing arts prompted her parents to enroll her in the Sylvia Young Theatre School, where she began excelling.
Career
Rita's initial foray into the music industry involved collaborations and performances around London's club scene. She caught the attention of industry professionals and was subsequently signed by Jay-Z's Roc Nation label in 2008, a moment that would prove pivotal in her career trajectory. The signing was followed by years of hard work, refining her sound and image, and preparing for her grand debut.
Rita's debut single, "R.I.P.," featuring Tinie Tempah, released in 2012, marked her breakthrough on the music scene. The song's commercial success catapulted her into the limelight, and her debut album "Ora" soon followed. With chart-topping singles like "How We Do (Party)" and "Shine Ya Light," the album showcased Rita's eclectic musical influences, blending pop, R&B, and dance genres.
Rita Ora's magnetic presence on stage and her unapologetic fashion sense quickly earned her a place on the international stage. Her collaborations with renowned artists such as Calvin Harris ("I Will Never Let You Down") and Charli X.C.X. ("Doing It") further solidified her reputation as a pop sensation. Rita's music resonated with a global audience, leading to worldwide tours and performances at major music festivals.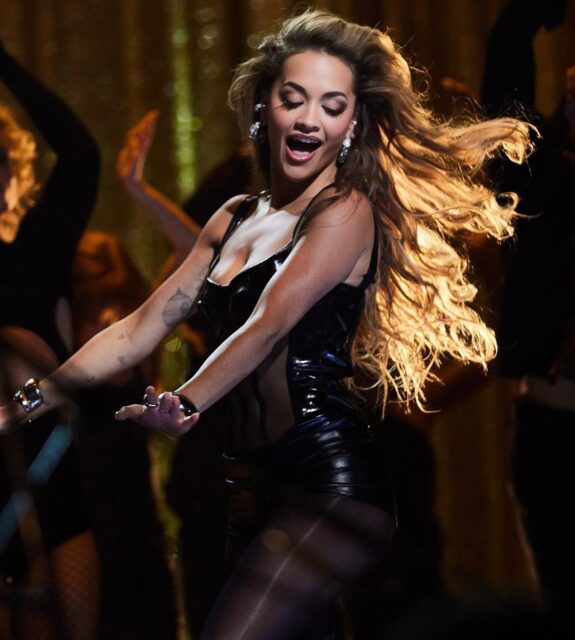 While music remained her primary focus, Rita Ora's ambitions extended beyond the studio and stage. She made her acting debut in the film "Fast & Furious 6" in 2013, showcasing her ability to transition between different forms of entertainment seamlessly. Additionally, she served as a judge on the British reality show "The X Factor" and hosted "America's Next Top Model," showcasing her versatility as a multifaceted entertainer.
Rita's journey was challenging. Legal battles with her former label and personal struggles tested her resilience. However, she channeled these experiences into her music, releasing introspective tracks that resonated with fans on a deeper level. Her ability to openly discuss her challenges and growth endeared her to her audience, further cementing her status as a relatable and authentic figure.
As the years went on, Rita Ora continued to evolve artistically. Her second album, "Phoenix" (2018), showcased a more mature and confident sound, with hits like "Anywhere" and "Let You Love Me." Beyond her music, she became a fashion icon, collaborating with brands and designers while using her platform to advocate for empowerment, diversity, and equality.
Ora secured a record deal with Berlin-based music company B.M.G. in February 2022. She announced on April 19, 2023, that her third studio album, You & I, would be released.
On July 14, 2023, She released her album, which was well-received by fans and music critics. The album debuted at number six in the United Kingdom.
Filmography
Fast & Furious 6
Fifty Shades of Grey
Southpaw
Fifty Shades Darker
Fifty Shades Freed
Wonderwell
Descendants: Rise of Red
Discography
Awards & Nomination
Bambi Awards
BRIT Awards
China Music Awards
Elle Style Awards (Spain)
Glamour Awards
Latin American Music Awards
MOBO Awards
MTV Europe Music Awards
Spotify Awards
URBAN Music Award
Personal Life
Rita Ora's life story includes her parents' different religious backgrounds (her mother is Catholic, and her father is nominally Muslim), her spirituality without strong religious affiliation, and her ability to speak Albanian. Her family background is notable, with her maternal grandfather serving as the Albanian consul to Russia and her paternal grandfather being a film and theatre director.
She was honored as an Ambassador of Kosovo in 2015 and was joined by her parents, along with Tony and Cherie Blair, at the ceremony. Her romantic history involves relationships with Calvin Harris, Andrew Watt, and Taika Waititi, whom she married in August 2022.
However, she faced controversy when she violated COVID-19 restrictions by hosting a birthday party during a lockdown in 2020. She had recently returned from Egypt and was supposed to be quarantined. She apologized and was fined £10,000 for the breach.
Ora is also known for her selfless services, as she has participated in various charitable events. She performed at the Bal de la Rose du Rocher in support of the Princess Grace Foundation and took the stage at the "Chime for Change" charity concert to raise awareness about women's issues.
She joined Band-Aid 30 to raise funds for the Ebola crisis in West Africa. Ora also addressed immigration and the Syrian refugee crisis at the We Day U.K. event. Her commitment to philanthropy led her to become a UNICEF UK ambassador in April 2019.
Social Media
Instagram: @ritaora
Twitter: @ritaora
Net Worth
Rita is an expensively successful young woman who garnered her wealth from singing, touring, and acting. She has an estimated net worth of US$30 million.
---
---