Olumide Oworu Biography: Age, Net Worth, Pictures, Parent, Girlfriend, Date Of Birth, Films, Instagram
Olumide Oworu (born December 11, 1994) is a Nigerian professional actor, model, and rapper born and raised in Nigeria.
He began acting at a tender age, featuring on the tv series 'Everyday People".
He became very famous after he was featured on the Netflix series "Far From Home" where he played the role of Atlas
Early Life
The 29years old actor was born and raised in Nigeria by his parent, Mr. and Mrs. Oworu. He grew up in a Christian background of Yoruba descent.
Growing up, Olumide was introduced to acting at the early age of 6, and as he grew older, he began developing a passion and interest in it.
His mother, Mrs. Titilope Odubanjo Oworu, became his manager, who guided him and also helped in sourcing opportunities.
He attended Kings College in Lagos and got his first school leaving certificate.
He graduated from Babcock University with a degree in mass communication.
Career
Olumide is a highly talented individual with a passion for acting. This passion and talent were evident in his first movie appearance in "Everyday People." He has consistently demonstrated extraordinary skills on every set, taking his roles to heart and fully immersing himself in each character.
He was introduced to acting at six and has been devoted to his skill ever since. His performance in "Everyday People" brought him to the limelight and established him as a talented and promising actor in the industry.
In addition to his role in "Everyday People," Olumide has also had the opportunity to feature in other projects, such as the popular TV series "The Johnsons," where he played the character of Tari. He has also appeared in other TV series, showcasing his versatility and range as an actor.
In December 2022, Olumide starred in the Netflix original series "Far From Home." The series, widely anticipated by audiences, tells the story of a group of young adults navigating their way through the complexities of life and love in a fast-paced, modern world.
Olumide took on the role of 'Atlas,' a charismatic and ambitious character who is also the boyfriend of one of the main characters, Carmen Wilmer-Willoughby. The role required Olumide to display various emotions and characteristics, from vulnerability to determination. He received praise from critics and audiences alike for his portrayal of the character.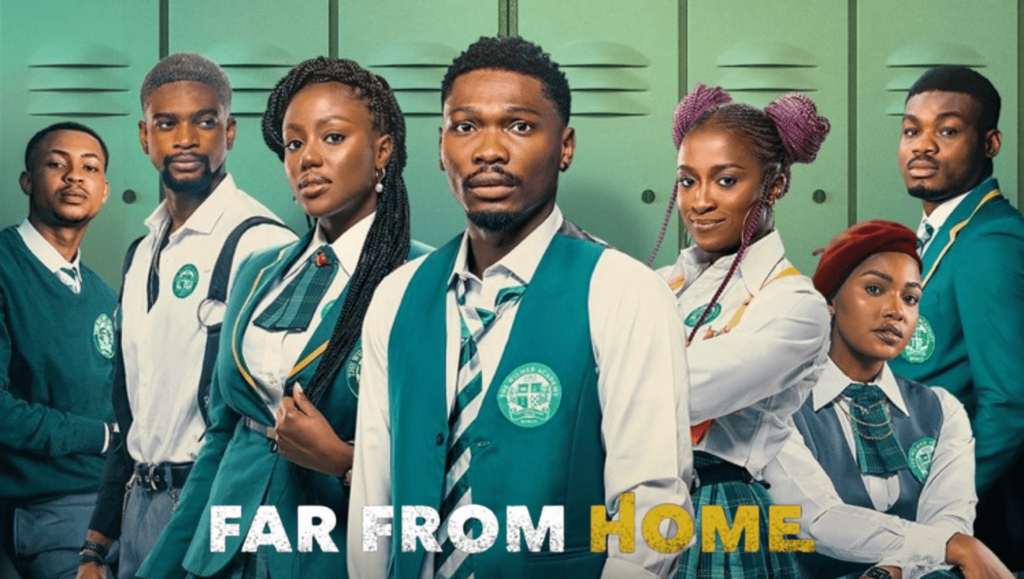 He featured along some other young talented actors, including Natse Jemide, Mike Afolarin, Genoveva Umeh, Bucci Franklin, Elma Mbadiwe, Gbubemi Ejeye, Ruby P. Okezie, Natse Jemide, Raymond Umenze, Moshood Fattah, Tomi Ojo, and others. Each of these actors brought unique talents to the series and helped create a diverse and dynamic cast.
The series was directed by a well-known director and written by a team of talented writers. It was filmed in various parts of the country, capturing the beauty and energy of the locations in which it was set.
The show premiered on Netflix on December 10, 2022, and quickly became a fan favorite, garnering rave reviews and a dedicated fanbase. It was nominated for several awards and considered one of the most successful series of 2022.
Filmography
Day Of Destiny(D.O.D)
The Johnsons
Ijakumo
Far From Home
Man of God
The Reckoner
Detour
Shuga
A soldier's story
Kala & Jamal
She is
Kyaddala
Personal Life
Olumide is one of those people who seem to have it all. He's got the looks, the talent, and even a few cars to show for it.
But despite all that, he's a pretty private guy, especially regarding his love life.
He is currently in a relationship with a pretty young lady whom He has chosen to keep private and out of the spotlight.
Controversy
Rumors are circulating that Olumide and Susan Pwajok are in a romantic relationship. However, neither has publicly confirmed the allegations.
Social Media
Net Worth
Over time, Olumide has built a net worth of approximately US$200,000 from his involvement in the film industry.
---
---